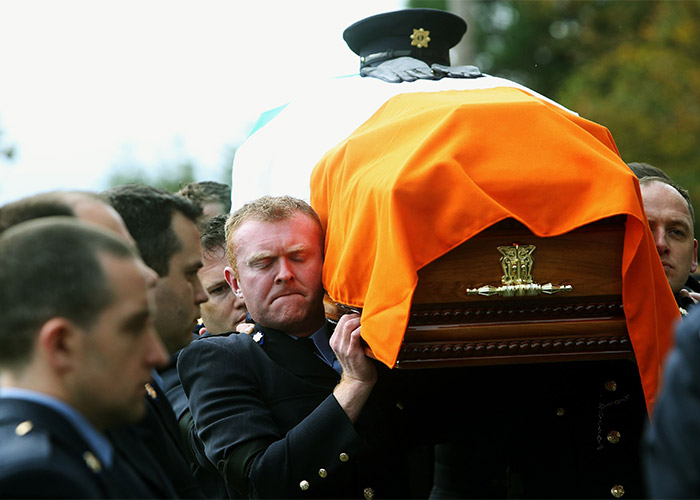 Tributes Paid To Garda Tony Golden
Tributes are being paid today to Garda Tony Golden who died in the line of duty last evening in Omeath, Co. Louth. Garda Golden who was originally from Ballina in Co. Meath is survived by his wife Nicola and three young children.
Speaking on Morning Ireland on RTE Radio 1 today, Deputy General Secretary of the AGSI, John Jacob said that the Omeath community is "very close-knit and will rally around the gardaí.
"This is an incident that could not have been anticipated by the guard. In rural Ireland, gardaí routinely attend calls on their own.
"The gardaí use all these experiences to learn lessons."
AGSI released a statement last night expressing the Association's condolences to Garda Golden's family, friends and Garda colleagues.
Condolences to the family of the Garda shot dead tonight in the line of duty. RIP.

— AGSI (@AGSI_Ireland) October 11, 2015
Dermot O'Brien from the Garda Representative Association said that today is "a day for mourning."
"Sadly, Tony Golden's fearlessness and his self-sacrifice and dedication to the people he served led to his loss of life yesterday."
Garda Commissioner O'Sullivan's statement on Death of Garda Anthony Golden.
"I am deeply saddened to hear of the death of my colleague in a fatal shooting incident this evening while carrying out their duties.
At this time my thoughts and prayers and those of the entire Garda service are with his family, friends and colleagues.
This incident highlights the unique nature of the job carried out by the men and women of An Garda Siochana, and the dangers they face every day."
Justice Minister Frances Fitzgerald said: "The fact a garda has laid down his life while protecting the community is a cause of great sadness.
"His death will be mourned by the entire nation, grateful for the service which he gave to it.
"While no words at this time can be expected to console his wife and
children, his family, his colleagues and all who loved him, they know he gave his life in the best traditions
of An Garda Siochana protecting the community he was so proud to serve."
President Michael D Higgins echoed these sentiments, saying: "I want to express my deepest sympathy to the family and friends of the garda who so tragically lost his life while responding to this incident. My thoughts at this time are also with all others who have been affected by the events in Omeath earlier this evening."
Ar dheis láimh Dé go raibh a anam.