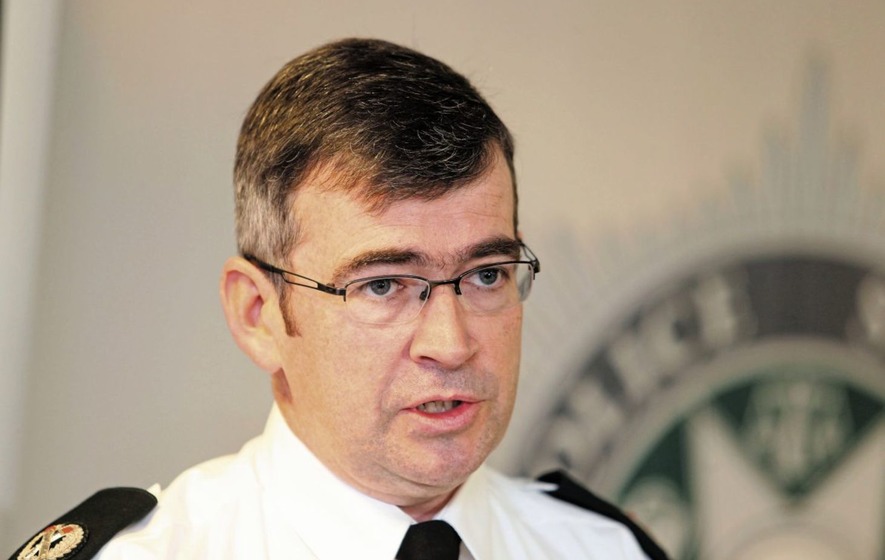 [THE IRISH NEWS] Deputy Chief Constable Drew Harris is the favourite to take the top garda post
PSNI Deputy Chief Constable Drew Harris has been shortlisted for the post of Garda Commissioner, vacated after the sudden resignation of Nóirín O'Sullivan last September.
Mr Harris, who was formally in charge of the PSNI's intelligence branch, is now thought to be favourite to secure the top policing post.
The salary was increased to €250,000 a year from €180,000 in order to attract interest in the position with a widespread view that reform requires a candidate from outside An Garda Siochana. The new commissioner will be required to oversee sweeping changes to the beleaguered force with 16,000 members and an annual budget of E1.6 billion.
A Troubles victim, Mr Harris's father Alwyn, an RUC officer, was killed in an IRA undercar bomb in 1989. His mother was also in the car at the time but survived the blast.
Republicans have previously being critical of Mr Harris with Sinn Féin's Caitriona Ruane withdrawing from the Policing Board selection panel for the deputy chief constable position before the interviews were completed claiming the process was compromised. However, SDLP board member Dolores Kelly described Ms Ruane's actions "irresponsible and reprehensible".
Deputy Chief Constable Drew Harris is the favourite to take the top garda post.
Mr Harris has held a number of operational commands and spent a two-year secondment with Her Majesty's Inspectorate of Constabulary in Scotland.
He has a degree in politics and economics and a masters in criminology.
With previously responsible for the Crime Operations Department, the former RUC officer has a history of working in covert intelligence and liaised with MI5 during operations into dissident republican activity.
A police officer since 1983, he received an OBE in the Birthday Honours List, June 2010. He is married and has four grown up children.
Former Garda Commissioner Nóirín O'Sullivan resigned in September citing an "unending cycle" of scrutiny amid efforts to "rectify the failures and mistakes of the past" as prompting her decision.
Commissioner Noirin O' Sullivan retired in September
The first woman to lead the force in its 92-year history, she is currently giving evidence to the Disclosures Tribunal in the Republic examining allegations by whistleblowers about senior gardaí misconduct.
The new recruit will be the third Garda commissioner since 2014. Ms O'Sullivan's predecessor Martin Callinan also resigned in controversial circumstances.
Former PSNI Deputy Chief Constable Judith Gillespie was previously tipped for the position of Garda Commissioners. Once the most senior female of the PSNI, she currently sits on the Republic's policing authority.