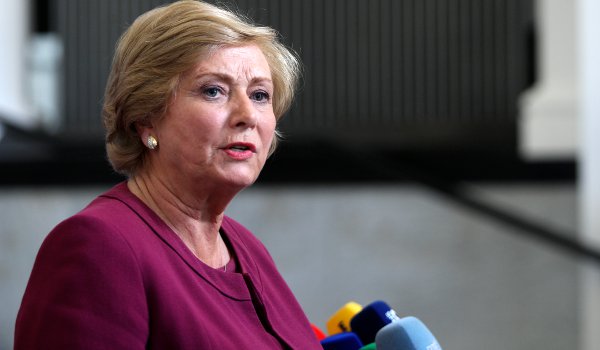 Tánaiste secures substantial additional funding for An Garda Síochána
Tánaiste – 'We will fund whatever measures necessary to tackle this scourge'
 
The Tánaiste and Minister for Justice and Equality, Frances Fitzgerald, TD, today announced she has secured Government approval for substantial additional funding to be provided to An Garda Síochána.  
 
An additional allocation of €55 million will be made available for the remainder of 2016 including €5m previously announced in February. This funding is made up of €40 million additional Exchequer funding plus €15 million to be funded from projected savings based on analysis of expenditure trends elsewhere in the Justice and Equality sector.
 
The Tánaiste said: "The Government has consistently made clear that we would fund whatever measures were needed for An Garda Síochána to best tackle the critical and unprecedented challenges they currently face.  I am grateful for the support of the Minister for Public Expenditure and Reform and my Government colleagues for this additional funding.
 
"Nobody is above the law. We have shown that in the past and we will show it again. This decision ensures the Gardaí have the necessary resources to face down the appalling and ruthless cycle of violence caused by organised crime and continue the successful crackdown on rural crime and burglaries.
 
"We are also committed to bringing the strength of An Garda Síochána to 15,000; the number of civilian staff will be increased and we are providing some €46 million for the Garda fleet and an additional €205 million for much needed ICT.  These investments will ensure An Garda Síochána is resourced and supported both now and into the future."  
 
These additional monies are made available based on information from Garda management regarding the level of funding required to maintain the necessary policing response to the current situation on an ongoing basis. This will allow for:
 
• Concentrated policing targeting gang related crime
• The continued intensive and strategic targeting of burglaries and related crime through ongoing support for Operation Thor
• Continued support for measures against terrorism
 
An Garda Síochána has already incurred significant additional expenditure in 2016 – a total of €31 million has been spent on overtime in the year to date from a total budget of €41 million. This additional funding more than doubles the overtime allocation for 2016, bringing the total to over €90 million.  
 
ENDS
 
Notes for Editors
The additional €40 million in exchequer funding will be reflected in an adjustment to the Revised Estimate for 2016 to be published next week while €15 million savings within the Justice Vote Group will be reassigned in a technical measure later in the financial year.