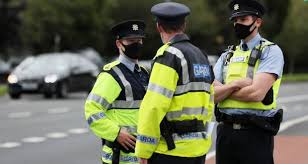 Sergeants and Inspectors Concerned About Health, Safety and Risk Attached to Government Proposals Around COVID-19
The Association of Garda Sergeants and Inspectors have expressed serious concern about new Government measures which will require Gardai to follow up on mandatory quarantining by international arrivals into Ireland.
General Secretary Antoinette Cunningham says, "We were concerned to hear the Minister for Justice Helen McEntee on Six One News on RTE yesterday saying that while details will be finalised in the coming days, spot checks will be carried out by Gardai who will call to people's homes.
"AGSI are extremely concerned about the health and safety implications of asking our members to go into homes or call to hotels where there is an increased risk of them contracting the virus. Furthermore, we do not know the legislative framework which allows us to enter into people's homes for the purposes of checking if they are quarantining, and we have received no instructions or consultation in this regard to date.
"The practical application of these regulations for Sergeants and Inspectors is unclear and we see significant and very serious operational and logistical challenges, says Ms Cunningham.