John Hynes, Castlerea retired on the 21st of July from An Garda Síochána
John walked through the gates of the Garda Training Centre on the 6th October 1983 with 67 other recruits. His first station was Kevin Street where he gained a vast amount experience and where he first met Judge Gillian Hussey. Gillian and John became good friends over the years and earlier this month she made the trip to Castlerea to attend John's retirement function which took place on August 1st.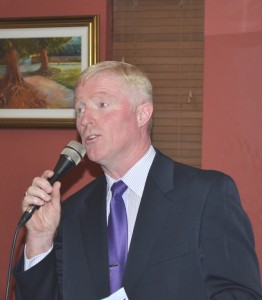 Gillian recalled her fist meeting with John was in Kilmainham District Court where she dismissed his case.  She also recounted another incident in Kilmainham District Court where a prisoner made a bolt for freedom. He was pursued by a number of Gardaí over garden fences disturbing a young female who was sunbathing in the nude. But the pursuing Garda did not even notice due to the dedication to duty. John who was quick on his feet caught up with the escapee and returned him to court.
Tributes were paid to John by Chief Superintendent Padraic Rattigan and Superintendent Jim Ryan who recently transferred to Roxboro Road. Jim said, "John was a shining light in these black times" referring to recent bad press. He praised John for the investigation of numerous child sexual abuse cases and in particular the one commonly referred to as the "House of Horror". He thanked John for his good service to the State and wished him well in his retirement.
AGSI General Secretary John Redmond presented John with an AGSI Scroll in recognition of his work as a representative on the Roscommon/Longford Branch. Declan Hunt presented John with the AGSI retirement Bust. Paul Mc Dermot Branch Secretary sent his best wishes to John and family as he unfortunately  could not be there on the night.
John thanked everyone for attending his retirement function. He recalled his career in An Garda Síochána and enjoyed his time in Kevin Street and Castlerea. On promotion to rank of Sergeant he was transferred to Keadue station. Now having come from a rural area it did not prepare him for what he encountered when he entered Keadue Garda station having come from the metropolis of Dublin. Only one bulb worked in the station and there was no toilet seat much to him embarrassment when the Chief Superintendent asked to use the toilet. But that was back in 1993 and things have improved since then. John was transferred to Castlerea where he has spent the past twenty years plus.
He thanked his wife Catherine (a former member of An Garda Síochána who he met while stationed in Kevin Street) and his children for all their support over the years. He thanked Gillian Hussey who retired from the Bench in 2002, saying "she was very kind to new Gardaí who appeared before her and she did her very best to help them settle into their new career."
Frank Egan was MC for the night and on behalf of his colleagues and the people of Castlerea he thanked John for dedication and loyal service to the community.
Photos by Alan Dowley