Police strike ruling 'has landmark implications' – Chairman of the Police Federation for Northern Ireland
Decision to allow Irish An Garda Siochana to take industrial action will be closely studied, claim analysts.
Date – 28th May 2014
By – Cliff Caswell – Police Oracle
A European ruling that gives Ireland's National Police Service, An Garda Siochana, the right to strike could have far-reaching ramifications for British policing, staff association officials and analysts have claimed.
Terry Spence (pictured below), Chairman of the Police Federation for Northern Ireland, said the ruling secured by colleagues south of the border would have continental-wide implications.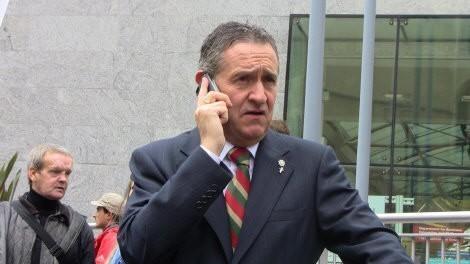 His view was echoed by academic Dr Tim Brain – a former Gloucestershire chief constable – who suggested that it had "exposed a chink in the armour" of politicians.
Mr Spence pointed out that decision – by the European Committee for Social Rights – could pave the way for other forces to take industrial action and predicted it would be closely studied.
But Mr Spence highlighted that his staff association was currently satisfied with its ability to negotiate on pay and conditions – and there had been a willingness from the Official Side of the Police Negotiating Board to recognise the unique circumstances of Northern Ireland.
The chairman was speaking after the European Committee of Social Rights decided that banning the Garda from full industrial relations was a violation of an international agreement.
The action, which was brought by the Association of Garda Sergeants and Inspectors, effectively means that officers will be able to go out on strike and form a trade union.
Association officials have described the ruling as "a defining moment", pointing out that the Committee that found the Irish government had breached a 14-year-old charter it had signed.
Mr Spence told PoliceOracle.com: "There is absolutely no doubt that this is a significant development – I would go as far as to describe it as a landmark ruling.
"It sends a message that forces could have the right to strike and take industrial action – this is something that is going to be examined across European member states."
Dr Brain pointed out that the ruling applied to an agreement in Ireland – and highlighted that there could be "no direct implication". But he added: "This does show a chink in the armour."
The academic emphasised: "You also have to remember that the Garda is actually a very similar policing system to our own – they are our effectively our cousins."