Last week AGSI General Secretary John Redmond and National Executive Member Mick Hiney attended the 90th annual conference of the Police Federation of England and Wales in Bournemouth.
More than 1,800 delegates from 43 forces throughout England and Wales, Scotland, Northern Ireland and overseas attended including representatives from the Association of Chief Police Officers, the Superintendents' Association and senior officials from the Home Office.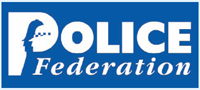 One of the groups who exhibited at Conference was The Foundation for a Drug Free World.
The Foundation for a Drug-Free World is a nonprofit public benefit corporation that empowers youth and adults with factual information about drugs so they can make informed decisions and live drug-free.
They have a series of useful educational tools on their website which you can download here.
General Secretary of AGSI John Redmond said the three-day conference gave an insight into developments and policies being implemented in the police force in the UK.  "It's always very important for us to attend these international events. Speaking to people in other police forces and sharing ideas and experiences proves very useful. There is always learning in meeting other groups and organisations."
Watch archived footage from the Conference here.