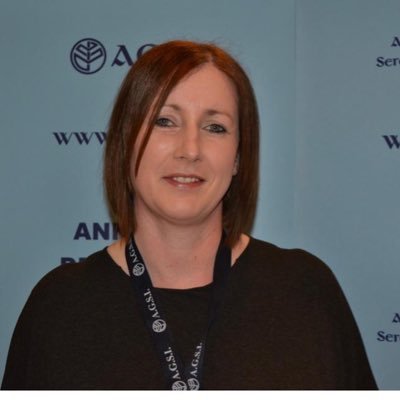 Garda Commissioner Congratulates AGSI General Secretary As She Is Honoured with NUI Galway Alumni Award for Policing
The Garda Commissioner Drew Harris has congratulated the General Secretary of the Association of Garda Sergeants and Inspectors who has been bestowed with one of NUI Galway's most prestigious Alumni Awards.
Antoinette Cunningham has been honoured with the Alumni 2021 Award for Law, Public Policy and Government in recognition of her demonstrated and significant contribution to the field of policing and especially during the pandemic.
Previous recipients include President Michael D. Higgins, Ciarán FitzGerald, Sean O'Rourke (RTÉ), Aedhmar Hynes, Pat Rabbitte and Olympian Olive Loughnane.
President of NUI Galway, Professor Ciarán Ó hÓgartaigh said, "At NUI Galway, we are a university for the public good, with a shared vision, shaped by our values. For 175 years our University has educated graduates of the highest calibre who have gone on to have a significant impact in their field of endeavour in Ireland and internationally. I congratulate each of the award winners and look forward to welcoming them back to their alma mater in 2022."
NUI Galway graduates in the worlds of the arts, sport, public service, Irish language and academia are among the distinguished recipients of the University's 2021 Alumni Awards.
Seven former students have been recognised in this year's awards, in recognition of their individual excellence and achievements:
Alumni Award for Arts, Literature and Celtic Studies – Actor Nicola Coughlan
Alumni Award for Business and Commerce – Áine Ní Chonghaile, Director of Europus, Fulbright Scholar and Author
Alumni Award for Law, Public Policy and Government – Antoinette Cunningham, General Secretary, Association of Garda Sergeants
Alumni Award for Engineering and Science and Technology – Professor Mark Costello, Professor in Marine Ecology at Nord University, Norway
Alumni Award for Medicine, Nursing and Health Sciences – Dr Colm Henry, Chief Clinical Officer, Health Service Executive
Alumni Award for Contribution to Sport – John Prenty, Connacht GAA Secretary
Gradam Alumni don Ghaeilge – Neansaí Ní Choisdealbha, Music Organiser and Presenter, RTÉ Raidió na Gaeltachta
Commenting on the award announcement, Garda Commissioner Drew Harris said:
"The COVID-19 pandemic has been an immensely difficult time for so many in Ireland. Over the past 18 months, Garda personnel have been working especially hard to support the national efforts to prevent the spread of this deadly virus.
"While the pandemic prompted so much change and disruption, for our organisation it has re-emphasised the importance of our strong bond with communities nationwide. This is an important connection that we will continue to strengthen through community policing.
"As General Secretary of the Association of Garda Sergeants and Inspectors, Inspector Antoinette Cunningham has steered the Association through a very challenging period. Her valuable contribution to policing in Ireland has made a difference to both our colleagues within An Garda Síochána and to keeping people safe.
"I extend my warmest congratulations to Inspector Cunningham and all the hard-working members of An Garda Síochána who have worked tirelessly during the pandemic on receiving this award. "
President of AGSI Paul Curran said, "We are delighted that Antoinette's work in AGSI has been recognised at a national level and as a representative organisation it is one which we greatly appreciate on behalf of all our members. The pandemic added an extra layer of complexity to our work and this award is both timely and fitting."
In her acceptance speech, Ms Cunningham said, "It is a real honour to be bestowed with this prestigious award.
Firstly, as a member of An Garda Síochána to be recognised on behalf of my colleagues is a real symbol of the appreciation for those on the frontline policing the pandemic.
"The past 18 months have been particularly challenging for the Garda organisation, and we have worked to maintain and enhance our relationship with our communities. "I want to pay tribute to all Garda colleagues that have protected communities throughout this pandemic.
"I feel proud to lead the AGSI through this turbulent period of time. I accept this award with gratitude and humility. Thank you for the recognition."
Notes to Editors
Due to the pandemic, the awards have been presented to this year's recipients. NUI Galway will invite them back to their alma mater to mark the award in 2022.
First introduced in 2001 the NUI Galway Alumni Awards recognise individual excellence and achievements among the University's more than 120,000 graduates. They boast an impressive roll call of more than 100 outstanding alumni who have gone on to make an impact in their chosen field and in so doing honour their alma mater.
Among the distinguished honorees are President of Ireland, Michael D Higgins; Olympian Olive Loughnane; Rugby great Ciarán FitzGerald; Tony Award-winning actor, Marie Mullen; former Attorney General Máire Whelan; Aedhmar Hynes, former CEO of Text 100; and Adrian Jones of Goldman Sachs.
NUI Galway is also announcing that the 2022 Alumni Awards are now open for nominations. These awards will recognise an alumnus or alumna who has made an outstanding contribution in their area of endeavour and is making a significant impact in their field.
For more information regarding the NUI Galway Alumni Awards and previous recipients please see the Alumni website https://www.nuigalway.ie/alumni-friends.
Antoinette Cunningham Bio
Inspector Antoinette Cunningham has been a member of An Garda Siochana for 30 years.
In 2018 she made Irish policing history by becoming its first female full-time official in a Garda Representative Association. On her way to achieving that career-defining milestone, Antoinette also achieved other records for equality, having been the first woman to serve at every level of the Association at Branch, National Executive, President and Deputy General Secretary.
A native of Knocklong, Co Limerick, Antoinette has one son Danny (22)
She joined An Garda Siochana three decades ago, and served in Killarney, Roxboro Road and Mayorstone Garda Stations and worked as a training Sergeant in the Garda College for 10 years. Antoinette is the holder of a master's degree in Adult Learning & Education from NUIG and has a large number of other academic and professional qualifications.
2016 A Challenging Year but a Legacy Year
As President of AGSI, Antoinette led her members to the brink of unprecedented industrial action over pay and conditions in late 2016 before the issues were finally resolved by the Labour Court. Antoinette's strategic direction and continued advocacy on behalf of gardai saw the introduction of the Industrial Relations (Amendment) Act 2019 which finally gave Gardai access, through their representative associations, to the services of the Workplace Relations Commission (WRC) and the Labour Court to resolve industrial relations disputes. Antoinette has consistently raised the issue of Gardai having the right to negotiate its own pay and conditions and has been at the forefront in ensuring her members are as equally represented in National Pay Negotiations as all other parties.
Policing the Pandemic
On the 11th March 2020, the Director-General of the World Health Organisation declared COVID-19 a global pandemic. The effect in Ireland was immediate and on the 16th March 2020, the Garda Commissioner notified the Garda Staff Associations that a policing requirement was urgently needed. With no objections, overnight notice, and with considerable disruption to family life, childcare and carer arrangements, AGSI under the leadership of Antoinette as its General Secretary, unquestionably and immediately committed to supporting the Garda Commissioner and the Government in its efforts to stop the spread of the virus and do whatever was required of them in this regard. Antoinette stayed front and centre on representing the members of AGSI right throughout the pandemic, examining the raft of new Regulations and Legislation that were imposed by the Government and asking her members to remain mindful that enforcement was as a last resort only, that our interactions with the public must be fair, reasonable, equitable and respect the human rights of all persons and that engagement was a key element in seeking the co-operation of the public. Antoinette recently appeared in front of the Justice Oireachtas Committee to speak on Policing issues during the COVID pandemic.
Looking ahead, Antoinette says her professional goal has always been to make a mark and create a legacy for AGSI members.
I am extremely passionate about rights, equality and transformation, all of which remain challenges but opportunities ahead and my loyalty to the Garda Organisation and the Association is as strong today as it was three decades ago when I joined the force'.