New Deputy General Secretary of AGSI John Jacob from Change Management Garda Headquarters (Garda Headquarters Branch) joined AGSI Headquarters staff today (Tuesday 19th March).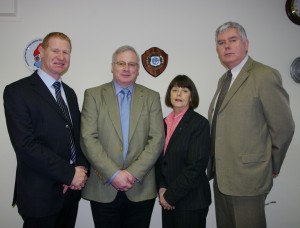 A native of Kilcormac, Co. Offaly, John Jacob was today announced as the new Deputy General Secretary of the Association of Garda Sergeants and Inspectors.
Experience
John joined AGSI on promotion to Sergeant in 1994.  He has previously presented motions at the Annual Delegate Conference as part of the Headquarters, before joining the Headquarters Branch in 1999.  He served on the Headquarters Branch of AGSI since then and has continued to be an active contributor at Conference.  John has held the position of Branch Chairman and is currently the Branch Secretary.  John also served on two National Executives from 2007 – 2010 and from 2010 to date.
From his role in Change Management, John has a detailed knowledge of many aspects of the change and modernisation agenda currently underway within the Garda organisation. He believes this expertise will stand him in good stead in his new role.
Vision
"I believe my knowledge and experience in Change Management will assist the National Executive and General Secretary in assessing the impact of proposed changes on members of AGSI.  There are a range of issues facing AGSI, not least the immediate future and the challenges to protect pay and allowances."
John says he is committed to working with the General Secretary, National Executive and the membership across the organisation in their fight against any further cuts to allowances and reduction in pay.
Addressing Members' Issues
However, outside of the key issue of pay John wants to improve the welfare structures available to members and to encourage more active local membership within AGSI.
"Safeguarding the welfare of members is a primary function of AGSI.  So I will work closely with individuals to understand welfare and other issues of concern to them.  AGSI must then address members' issues discretely, promptly and effectively through the mechanisms open to the Association. This is the minimum expectation of our members and it must be delivered without fail."
Engagement
Engaging with Sergeants and Inspectors, both male and female, who previously have not been involved in Association business is an important priority for John.  He points out that not everyone needs to be on a Branch Committee to be an effective member of AGSI.
"Members must make their views and ideas known to their Branch, their National Executive Members or the Secretariat.  Without input from the membership the Association cannot be wholly representative. 
"Ultimately I hope to foster a culture of involvement from all Association members with a view to addressing their needs in the best way possible and implementing their ideas for their benefit and the benefit of AGSI members generally.