Training to recommence in early September, representing first intake to Garda College in five years
Frances Fitzgerald TD, Minister for Justice and Equality, has today announced that 100 new Garda recruits will enter the Garda College, Templemore, to commence their training in early September 2014.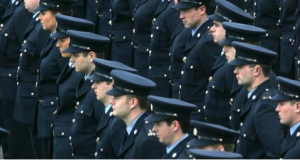 Minister Fitzgerald stated: "I welcome the recommencement of training for new Gardai which demonstrates the ongoing commitment of Government to supporting Garda Síochána in their efforts to keep our communities safe"
"It is five years since Templemore last saw new recruits entering Garda college, so the intake in September marks an important step forward, both for the Gardai, for the local community in Templemore; and for the country."
(The last intake of new recruits was May 2009.)
Minister Fitzgerald confirmed that she had received sanction from her colleague Brendan Howlin TD, Minister for Public Expenditure and Reform, to begin again to take new members into the force.
This follows a major recruitment overseen by the Public Appointments Service which proved very popular with over 20,000 applications.
The Minister stated: "I understand that An Garda Síochána will shortly be in touch with the first batch of successful candidates to advise them of this offer and to allow them to give adequate notice to deal with any existing commitments they may have."
The Minister outlined that the new recruits will undergo an innovative new training programme for Gardai, which has been developed to reflect the current policing environment and will better prepare the recruits for the reality of life on our streets. On conclusion of the two years training, the new Gardai will be awarded a BA in Applied Policing.
The Minister also commended all members of the Garda Síochána across the force for continuing to provide an excellent policing service to all communities. "I would like to place on record my appreciation to all members of the force for the work that they carry out on a daily basis in maintaining safe communities across the country."
Ends.