Speech by John Redmond, General Secretary, AGSI 
24/7 Frontline Services Alliance Rally (Event streamed Live on AGSI.ie)
Monday 18th February, 2013- National Basketball Arena Tallaght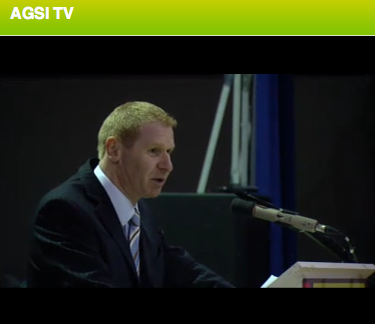 Colleagues, ladies and gentlemen,
It is heartening to see the incredible show of support that your attendance here indicates. This showing reinforces our stance that we will not back down on our campaign to protect pay. So, thank you for coming along, your voice and your story matters.
In relation to the Association of Garda Sergeants and Inspectors, most of you will know that we are not a union, and have no union rights. In fact during Croke Park extension talks we sit at table outside the main room where negotiations take place. However, we had applied to be affiliated to ICTU but that was denied us by successive Ministers for Justice.   At present, we are pursuing trade union status through Europe.
As General Secretary representing members of Sergeant and Inspector ranks in An Garda Síochána, I am of the view that my job is not, and never could be, to negotiate pay and allowances downwards.   If my members want someone to do that, it is certainly not me. To date their mandate has been loud and clear. Our members want their pay as frontline workers protected.   It is strange then that the major unions in Ireland seem to be of the view that it is their role through this renegotiation of Croke Park to do just that on behalf of their members.  Can you understand that, because I certainly cannot?
100 years ago Jim Larkin stood up to the self-centred employers and by doing so, he improved the pay and conditions for workers in Ireland.  It is ironic that on the anniversary of that brave stance, we are here tonight battling to protect what we have.   Who would have thought it would get to this?  The funny thing is, we are not seeking a pay increase.  We are not even seeking to have the 25% loss that Sergeants and Inspectors have taken over the last number of years returned to our members.    How have we allowed this Government to condition us to accept this,  While those at the top, including those in government and retired from government, continue to draw obscene pay and pensions?  Who do you know, for example, that gets paid to travel into work every day?  Apart from TDs of course.  Sounds suspiciously like Marie Antoinette's retort – 'Let Them Eat Cake'  Chance would be a fine thing !!!!
While the general public and their families are safely tucked up in bed , our members are out there facing the dangers that policing brings, supporting our colleagues in the medical profession and fire service in their roles, maybe cutting a teenager from a crashed car, taking a body from a burned house or often facing a suicide and containing the scene. All the while, our family members are in bed fearful for our lives.
This is what we do.   This is called the frontline.   This is why we believe our pay is deserving for the risks we take.  Did we know when we joined An Garda Síochána that we would be required to do these things at nights and at weekends and on Christmas day and other special family occasions?  Yes we did.  And we get an emolument in our pay for working like this.    But, we have played our part.    We have absorbed a 25% pay cut to date.  Another cut will cut our members resolve, morale and their sense of vocation.   Because Minister it requires that mind-set to take on the role our members commit to.
Minister
Why don't YOU face the dangerous drug-fuelled gangs and take them down?
Why don't YOU call to a mother tonight and tell her, her son has been killed in a road traffic accident?
Why don't YOU deal with the consequences of finding a suicide victim down and deal with the impact of this on his family and yours own?
Why don't YOU explain to your wife and your family that dangerous criminals are monitoring your home and their lives may be in danger?
And Why don't YOU face the knife and gun wielding thugs in your fight against crime?
And after all that , Why don't YOU face the Garda Síochána Ombudsman Commission inquiry, when those thugs make spurious complaints about the way you treated them ?
Minister I will take your job.  Any one of our members would take your job.   And we will be safe in the knowledge that we won't lose our home due to your unfair and targeted pay cuts.
AGSI will not back down.
Thank You.