General Secretary of the AGSI John Redmond, addressed the ongoing withdrawal of "goodwill" by his members on RTÉ news over the weekend.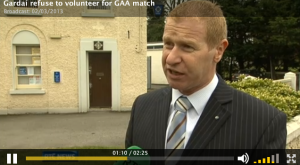 Speaking on RTÉ Six One and 9 0'clock News last evening, John Redmond said that his members would not volunteer for non-public duty until Government understood their issues and started to listen to his members concerns. He was speaking as members of AGSI and the GRA withdrew their goodwill to cover a GAA match at Croke Park.
View the news report here. Watch the video report by clicking on the video link titled "Gardai refuse to work voluntary overtime".