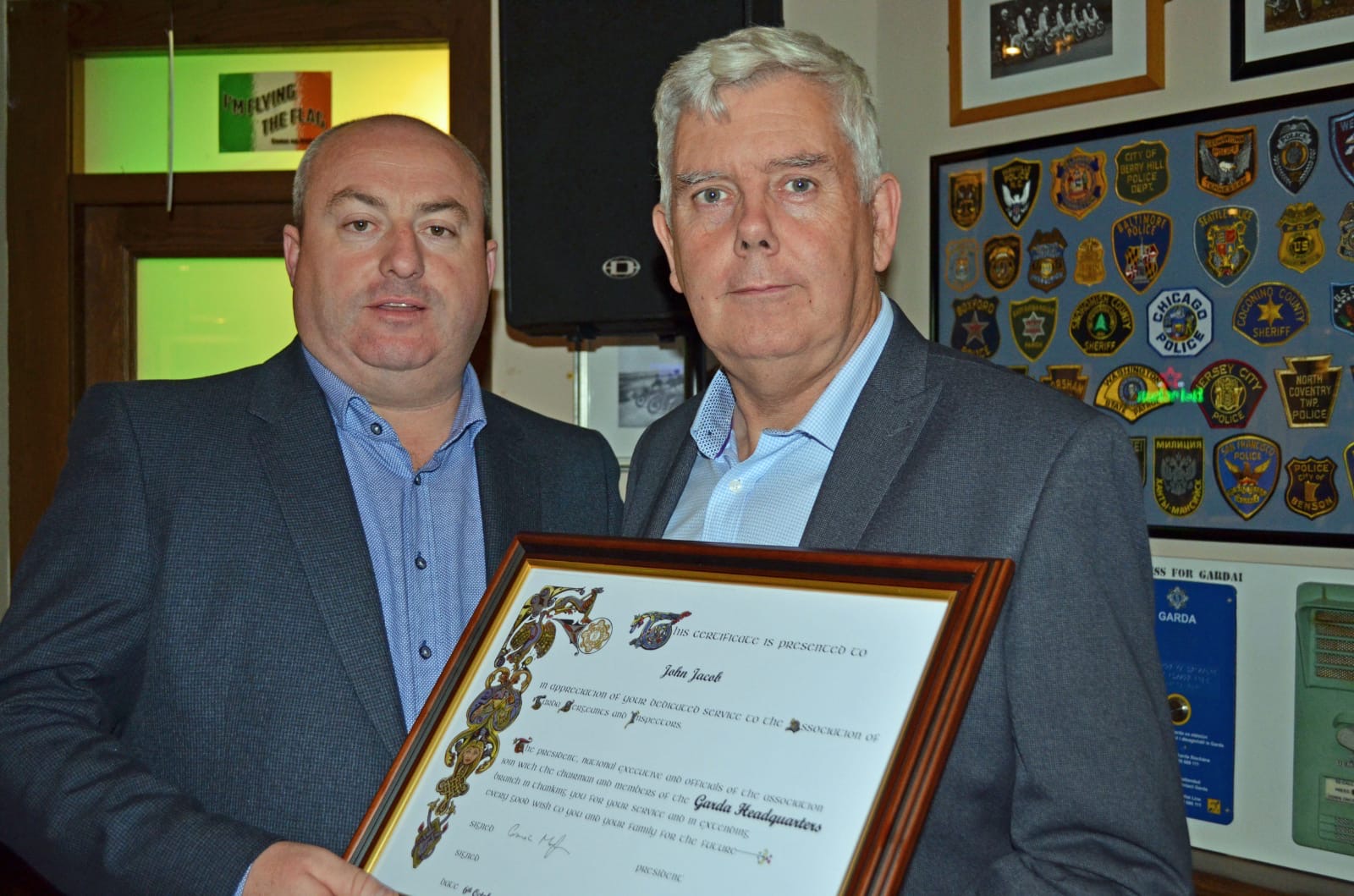 On Thursday 3rd of October close and friends and colleagues attended a function in Garda Headquarters' "Wet Canteen" to mark the retirement of John Jacob from his position as General Secretary of AGSI and from An Garda Síochána which officially occurred on the 6th October after 37 years of dedicated service.
John was a member of the Garda Headquarters Branch and Brian O'Dea who is Chairman of Headquarters Branch who took on the role of MC for the night.
He paid tribute to John for his dedicated service to his branch members in Garda Headquarters over the years and despite the fact that John was both Deputy and General Secretary of AGSI he never forgot his colleagues in Headquarters.
President of AGSI Cormac Moylan thanked John for his dedicated service to AGSI initially as a member of the National Executive Committee and also in his role and both Deputy and General Secretary. He praised John for his skills as a negotiator and mentioned the part he played in the Pay Talks.
On behalf of AGSI he wished John and his family and long and healthy retirement.
Tributes were also paid by Noel Cunningham who represented the Superintendents Association. Noel said that he had learned a lot from John and that he always admired how well prepared John was going into meetings.
Jim Mulligan, President of the Garda Representative Association (GRA) thanked for all his help over the years and spoke about the good relations that had emerged between the GRA and AGSI during John's tenure.
John then spoke and thanked everyone for coming especially those who had travelled long distances despite the threat of bad weather from hurricane Lorenzo. He gave us a short synopsis of his career from his time in the Air Corps, to joining An Garda Síochána and the various stations and ranks that he served in and his service overseas in Cyprus with the United Nations.
He said that he could not have achieved anything without the support of his wife Eileen.
We wish John well in his retirement.