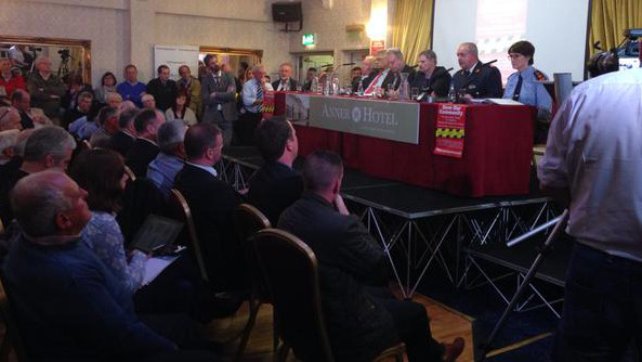 IRISH TIMES: "Rural crime: 'Someone has to say enough is enough'"
Article by Carl O'Brien, reporting from Thurles
Published in IrishTimes.com on 9 October 2015
Recurrent victims of crime are organising themselves to protect rural communities
It took Robert O'Shea 30 years to build up his agricultural contracting business near Littleton, Co Tipperary. In the space of 20 minutes on a Saturday night last August, all his equipment vanished.
"They took power tools, garage equipment, compressors, diesel, heaters, tow chains, all kinds of spanners and tools, even the batteries that were left in the cherrypicker," says O'Shea.
The next day he realised they had rolled three bales of straw into the river at the bottom of the farm to create another escape route.
"We put a big silage fork in the front gate as security . . . it was big enough that it would take three or four big men to move it."
The following night, they came again. By the time he was alerted in the early hours of the morning, the intruders had gone.
All that was left was a fork, a slash-hook and a saw, assembled, he assumes, as a form of defence in case they were disturbed.
"Put it this way, If I had come across them, I probably wouldn't be speaking to you now," he says.
Targeted
In the villages and townlands of Littleton, Twomileborris and Rahelty within a few miles radius, there are dozens of similar stories. Farmers, shop-owners and contractors report being targeted – sometimes on multiple occasions – by gangs over the past 18 months. Typically, up to five or six premises are raided on a single night.
Many talk of local gang members with detailed knowledge of geography being involved in much of the crime.
There is also evidence, however, of Dublin and Limerick gangs targeting the region, most recently with the conviction of seven criminals based in Dublin – with 300 previous convictions between them – for the assault and robbery of the Corcoran family in Killenaule.
What is especially alarming for many is the sense of impunity on the part of serial offenders involved in crime while out on bail for other offences.
There are also worries that under-resourced gardaí don't have the capacity or expertise to target gangs.
Farmers such as Robert O'Shea say fear and anxiety over crime are at risk of unravelling much of the fabric of rural Ireland.
One farmer says his elderly father leaves a sum of money in a glove compartment in the car outside the house in the hope that if robbers come , they will take the cash and leave.
Some speak of sleeping with shotguns in their bedrooms or taking weapons with them when checking on cattle in the middle of the night.
The ritual of dropping in unannounced to a friend or neighbour is disappearing, says another.
Urgent action
"Now you've to call in advance. They've to unlock the gate or turn off the alarm . . . It's a real shame," says one farmer.
The spate of robberies has led to calls for urgent action. A meeting in Thurles last night, attended by hundreds of people – including the senior members of the Garda – heard demands for tougher sentencing, greater resources for gardaí and sweeping reform of our bail laws.
John Tully, whose Gala shop in Twomileborris has been targeted numerous times in recent months, is one of a committee of about 20 people which helped organise the meeting. He says the time for talking is over.
"The bottom line is we've to send a message to these thugs that they won't get away with it any longer," he says. "The problem is the judges need to stop giving suspended sentences and the gardaí need more support."
Few are seeking the re-opening of rural Garda stations, four of which have closed in the county in recent years.
Francis Burke, a farmer based in Rahelty who has also been robbed recently, says communities which feel isolated just want to be able to contact a named garda.
"Gardaí live too far away these days. They don't know the areas any more. They don't have the local knowledge they were picking up by living or mixing with the community," Tully says.
John Hogan, a Fianna Fáil councillor from Moyne, a few miles outside Thurles, also says re-opening Garda stations is a not a solution.
"It's a myth that all this is linked to the closure of rural Garda stations," says Hogan. "The jewellers in Templemore was robbed – and there were 14 gardaí across the road . . . The motorway means gangs are within easy reach. That's a big issue we've to deal with."
For community workers in the Tipperary area, however, it's a more complex issue than simply Garda resources.
Joblessness is running at more than three times the national average in pockets of some towns and communities in the area.
Many young people who left school just a few years ago and never found work are now classified long-term unemployed.
Frustrated
"We see it every day," says one community worker, who declined to be named. "There are youngsters who have nothing to do, who aren't involved in sport, training or education. They're frustrated. If crime is a way of making money, some end up going down that path."
Ministers say they are responding to demand for action.
Minister for Justice Frances Fitzgerald points the 500 new Garda recruits, new legislation to allow for consecutive sentencing and extra resources for specialist anti-burglary units.
Crime statistics indicate burglaries have been increasing generally across the State over recent years, though not at the "epidemic levels" claimed by some campaigners.
But campaigners, who also say a lot of crime goes unreported, want to see results.
Last night's meeting is just the beginning of a campaign, says Robert O'Shea. The committee involved plans to act as a watchdog on politicians and policymakers to ensure that promises are kept.
"This isn't just an issue for rural Ireland, but there's a sense that anything outside the Pale is an easy target for burglars," O'Shea says.
"It's not fair on the people who can't sleep at night or are afraid to leave the house. And it's not fair on those of us doing 15 to 18 hours of work each day and getting robbed of everything . . . Someone has to stand up and say enough is enough."