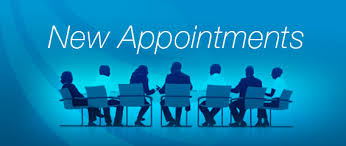 The Government has today made four appointments to the position of Assistant Garda Commissioner in An Garda Síochána.
The appointments are:
·        Chief Superintendent, Michael D. O'Sullivan, Drugs & Organised Crime Division
·        Chief Superintendent, John O'Driscoll, National Bureau of Criminal Investigation
·        Chief Superintendent, Eugene Corcoran, Criminal Assets Bureau
·        Chief Superintendent, Anne McMahon, Garda College
The appointments are required to fill existing vacancies with four regions of the State currently without an Assistant Commissioner – the Dublin Metropolitan Region, the Northern Region, Southern Region and Western Region.
ENDS.
Note to editors:
The appointments are to the four existing vacancies at the rank of Assistant Commissioner which has an approved complement of eight. The vacancies are in the Dublin Metropolitan, Northern, Southern and Western Regions. They arise from a combination of promotions and retirements over the last 14 months.
The appointees were selected following the holding of competitive interviews in accordance with the procedures laid down in the Garda Síochána (Promotions) Regulations 2006. Dorothy Scally, Chair of the Top Level Appointments Committee (TLAC)  chaired the three-person selection board.
The Garda Síochána (Policing Authority and Miscellaneous Provisions) Act 2015 makes provision for the Policing Authority to appoint persons to the senior ranks of An Garda Síochána. The relevant provision will be commenced once amendments to the regulations governing promotions within An Garda Síochána have been completed.
The main regulations concerned are the Garda Síochána (Promotion) Regulations 2006. In accordance with the Garda Síochána Act 2005, the Garda Commissioner and the Policing Authority must be consulted on any proposed changes to regulations. In addition, the Garda representative bodies must be consulted in accordance with the Garda Conciliation and Arbitration Scheme.
Work on the preparation of the proposed changes is being expedited in the Department with a view to the appointment function being transferred as quickly as possible. It is hoped that this work will be completed in July.