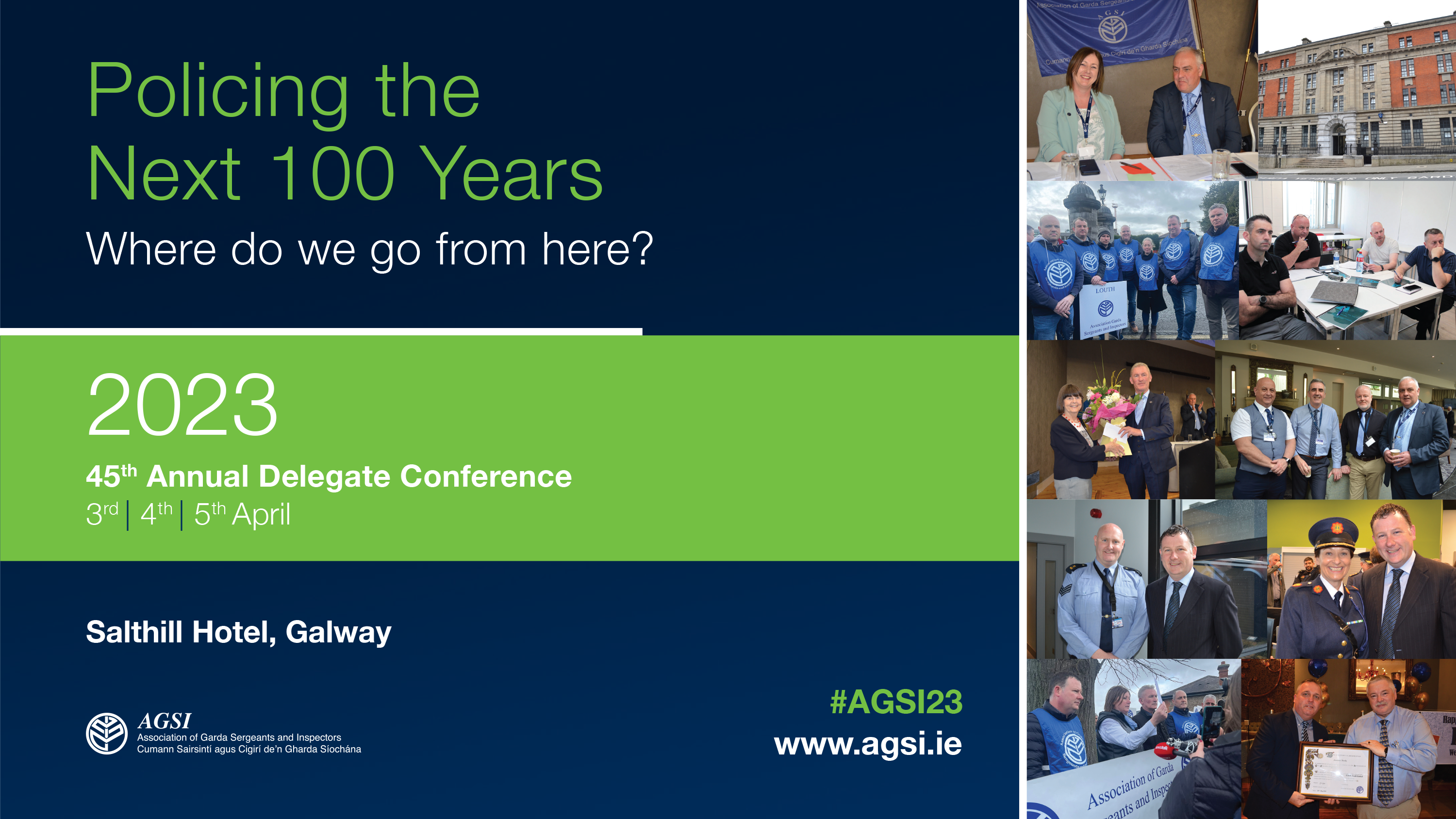 Garda Commissioner and Minister for Justice To Address Sergeants and Inspectors for First Time Since Roster Dispute Escalated
45th Annual Delegate Conference of Association of Garda Sergeants and Inspectors takes place in Salthill this week under dark cloud of low morale
The Association of Garda Sergeants and Inspectors (AGSI) gather in Salthill, Galway today (Monday 3 April) for their 45th Annual Delegate Conference. Top of the agenda, for the 140 delegates who represent 31 AGSI Branches, is the Garda Roster.
Earlier this month AGSI launched a campaign to highlight health, safety and welfare issues arising from the failure of the Garda Commissioner to adhere to the industrial relations process established in 2020 for Garda Dispute Resolution.
Last week AGSI made a number of suggestions on how the current impasse on Rosters could be resolved, however the Commissioner has on Friday last (Friday March 31), rejected all of AGSI's suggestions to their extreme disappointment.
General Secretary, Antoinette Cunningham says it seems now the only one with a fixed position is the Garda Commissioner who will not discuss anything only his referral to the Workplace Relations Commission (WRC).
She went on to say the mood of the membership is very low and it is not being made any easier by the Commissioner's refusal to engage internally on Rosters.
"Our Annual Delegate Conference is timely as there is a lot to discuss including what and how members will react to the updates on this dispute, and to engage and listen to members on what forms of industrial action they may wish to take.
"AGSI have also raised serious concerns with the internal consultation process and will be seeking the formal withdrawal of the recent Directive on Gender Identity in the Workplace, owing to the lack of consultation and awareness and especially in light of the recent comments by the Garda Commissioner that the mis-gendering of a person could lead to discipline.
"AGSI are acutely aware of the rights of people to Transition and be supported in doing so by workplace colleagues. In the absence of an awareness and education programme for AGSI members on how to properly support colleagues who wish to Transition, it is unfair of the Garda Commissioner to issue this Directive in its current form, and even more unfair is the threat of discipline hanging over us if we are misguided due to a lack of education.
"There are a large number of people in the Garda organisation who are not aware of the rights and entitlements of people who want to Transition and how on a practical day basis they can be supported in the workplace.
Minister for Justice, Simon Harris will address delegates this afternoon, while Commissioner Harris will attend the conference tomorrow afternoon. It's the first time in two conferences that the Garda Commissioner will address conference and it will be an important event for him to hear the view of the membership.
24 motions
There are 24 motions on the programme over the next three days ranging from pay and allowances, training, representation, uniform and equipment and organisational transformation to work practices and promotions. There are over 150 frontline Sergeants and Inspectors will attend the 3-day event.