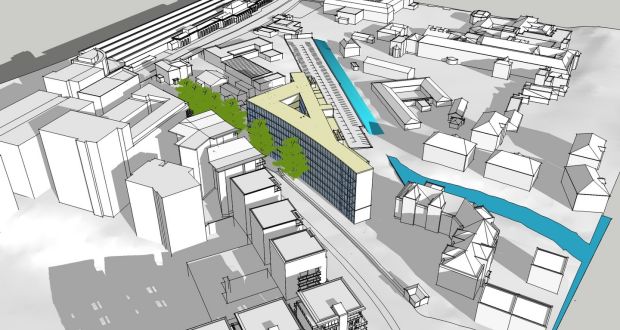 Construction Work on Garda Base to Begin in 2019 (via The Irish Times)
Construction work is to begin in early 2019 on a seven-storey base for a number of Garda units close to Heuston train station in Dublin.
The project has been given "priority status" as the force has to vacate a building it is renting off Harcourt Street in the next six years because the property owner is seeking to redevelop the site.
The Military Road offices would house the Dublin Metropolitan regional headquarters, the Emergency Response Unit, the Criminal Assets Bureau, the Bureau of Fraud Investigation and the Special Detectives Unit.
It will be a short distance from Garda headquarters in Phoenix Park.
The Office of Public Works (OPW) owns the site, and recently advertised for a civil and structural engineer to begin the large scale project.
Tender documentation for the project state that the new offices will provide "vital Garda infrastructure for national policing".
The proposed building will run to 11,100sqm with two floors of underground car parking. The works would be expected to finish in 2021.
Documentation from the OPW states the design of the multi-million building will allow for future expansion.
Funding for the large scale project has been approved, and OPW documentation outlines that "due to the priority status of this particular project, it is unlikely that this allocation will change."
Dispute
In May of last year the OPW, which leases the Harcourt Square office space to An Garda Síochána, became involved in a legal dispute with property firm Hibernia Reit, which owns the building.
The OPW's lease on the property was due to expire last year, and the property investment firm wished to redevelop the site.
Following fears specialist Garda divisions would be left working from unsuitable temporary accommodation the OPW secured a six-year extension to the lease.
Under the new agreement the OPW's rent on the office space increased to €6 million a year, a €1.1 million increase. The OPW has been leasing office space in the Harcourt Square property since 1980. Hibernia Reit purchased the site in 2015.
The Military Road site is zoned for office use, and it is understood the OPW does not foresee any planning or legal complications arising in developing the new headquarters.
An existing building on the site will be demolished to make way for the new development.
The OPW estimates it will be able to appoint a civil and structural engineer for the project by November this year.
---
Article originally published by: The Irish Times
Image featured above: Designs for new Garda national support headquarters on Military Road near Heuston Station. Source: OPW