On the 31st of December 2013 Walter Kilcullen AGSI Honorary Treasurer retired from An Garda Siochana and AGSI.
Nominations were sought from AGSI Branches within the Dublin Metropolitan Region for Walters replacement and only one proposal was received, that of Christy Morrison, who is stationed in Ballyfermot and Branch Secretary for DMR West, the very Branch that Walter Kilcullen retired from.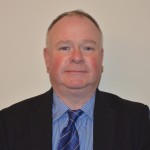 Christy will be taking up his seat on the National Executive Committee on Wednesday the 13th February when the National Executive Committee meet for their two day monthly meeting.
The President Tim Galvin, General Secretary John Redmond and  Deputy General Secretary John Jacob together with all members of the National Executive wish Christy the best in his new role.