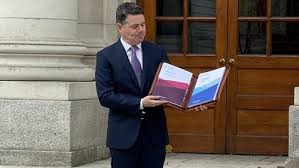 "The Association of Garda Sergeants and Inspectors have issued a cautious welcome to Budget 2020 saying the recruitment figure is reduced and questions if we are prepared to police the border in the event of a no-deal Brexit?
"Deputy General Secretary Antoinette Cunningham states that the announcement that 700 Gardai will he recruited next year marks a reduction of 100 on the same period last year. We also have to factor in retirements to those figures.
"Regarding the budget of €81 million for 2020, AGSI state that the Garda overspend for the first eight months of 2019 was €32m. So given an eight-month overspend, it works out at €4 million a month for 2019 which would be about €48 million next year, making the real increase around €33 million for 2020.
"The extra funding for the Garda Budget is welcome, however AGSI remain concerned about policing Brexit, funding an ambitious Operating Policing Model and servicing infrastructure, accommodation and transport needs.
"Considering the recent ban on overtime to curb spending, how will the Government fund exceptional costs such as heads of state visits and Brexit?"
"We understand the need for prudent accounting in a time of uncertainty, but policing the country is a public interest matter that concerns every citizen."
ENDS