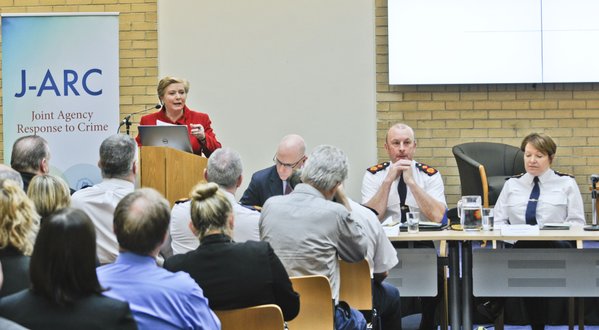 AGSI Welcome Joint Agency Response To Crime Strategy But Caution That Implementation Is Key To Its Success
The Association of Garda Sergeants and Inspectors has cautiously welcomed the new Garda Crime Strategy saying, "a sharp focus on crime prevention is overdue but welcome, however, its success will be dependent on the resources needed to implement it and its close integration with reforms in the criminal justice system."
Deputy General Secretary John Jacob was speaking following the Government's announcement yesterday of the 'Joint Agency Response to Crime Strategy'.
John Jacob says, "AGSI has long called for a more seamless and coordinated approach to crime management in this country and we are delighted to see our calls being responded to with the launch of J-ARC. Policing is not a singular strategy; it requires close cooperation with all justice agencies and community organsiations to prevent silos and thus opportunities for criminals.
"The community is acknowledged in this strategy given its role in reporting crime and providing local supports, however, we must ensure that adequate resources – Garda visibility, reduction in administrative tasks for Sergeants and Inspector-led crime operations with extra team members – are guaranteed to ensure proper implementation of J-ARC.
"If we are serious about reducing repeat offender crimes we must provide our members with adequate resources to do their job. Very often it is Sergeants and Inspectors who are dealing with serious criminals and preparing court material."
GOVERNMENT MEDIA STATEMENT
The Minister for Justice and Equality, Frances Fitzgerald, T.D., launches
J-ARC
the Joint Agency Response to Crime
30 November 2015
The Minister for Justice and Equality, Ms. Frances Fitzgerald, T.D. today
launched the Joint Agency Response to Crime initiative (J-ARC). J-ARC is
a joint strategy between An Garda Síochána, the Probation Service and the
Irish Prison Service.
Launching J-ARC the Minister said that, "While it is well known that I am
particularly committed to strengthening support for the victims of crime,
as Minister for Justice and Equality, I would also like to oversee a system
which aims to reduce the number of victims by a reduction in offending. The
launch of J-ARC today is an endorsement of the work done by criminal
justice agencies and community organisations together in challenging
offending behaviour which has at its centre the needs of victims to feel
safer in their communities."
The J-ARC strategy aims to implement a multi-agency approach to the
management of crime, to prioritise certain prolific offenders and to
develop specific initiatives which will address their behaviour and reduce
crime thereby increasing community safety. J-ARC provides the framework
for the programmes that will be part of Operation Thor to help reduce
re-offending by prolific offenders.
Having viewed a visual presentation of the J-ARC initiative the Minister
congratulated those responsible for its production and went on to say that,
"In Ireland it is estimated that 75% of property crime is linked to 25% of
offenders. Targeting this cohort of repeat offenders has the potential to
significantly reduce the number of burglaries being committed. While I
believe that prison is the right place for serious and serial offenders,
listening to the offenders who are participating in the J-ARC programmes
clearly demonstrates the real benefit of providing support and hope to
those who wish to change their offending ways. A change in a person's
offending ways has a direct effect on reducing the number of crime
victims."
The important role the community plays in working with offenders,
supporting their rehabilitation, reintegration and engagement in a positive
lifestyle was emphasised by Minister Fitzgerald "It makes sense that by
targeting identified prolific offenders with cross cutting initiatives like
this one, that address their criminal behaviour and the harm it does, crime
will be reduced and public safety increased. These people require a
specific programme in the community if they are to make better choices. I
totally endorse this co-ordinated and multi-agency approach."
The involvement of Dublin City Council and the Department of Social
Protection was also highlighted, the Minister commented that, "Other
services outside the justice sector have their responsibilities to assist
persons reintegrate and resettle and eventually desist from a life of crime
and are crucial to a whole of Government approach that prevents an
offending lifestyle developing in the first place. The better use and
earlier application of resources, resulting in better outcomes is real
reform in public services and something I would intend to build on."
ENDS
Note for Editors:
J-ARC is an inter-agency response to and co-operation in the management and
rehabilitation of offenders involving the Probation Service, Irish Prison
Service, and the Garda Síochána working in collaboration with statutory,
community and voluntary partners. A Joint Protocol was signed on 21
November 2014.
The J-ARC Strategy
This strategy confirms the joint commitment of the Garda Síochána, the
Irish Prison Service and the Probation Service to target those recidivist
offenders who are responsible for the majority of crime. In order to reduce
crime and enhance public safety, the nominated prolific offenders will be
managed through the co-ordination and integration of policy, practice and
research between the organisations.
Aim:
· To develop and further strengthen a multi agency approach to the
management of crime
· To priorities offenders in order to develop initiatives which will
address their behaviour;
· To reduce crime and increase public safety in local communities
Ballymun STRIVE – targeting prolific adult offenders within East
Ballymun whose offending behaviour is undermining the community's
quality of life. Two year pilot programme.
Bridge Change Works Programme – targeting adult male offenders living in
Dublin with a history of violent crime. Two year pilot programme
Acer3 – multi agency approach to the management of offenders charged
with burglary. Two year pilot programme.