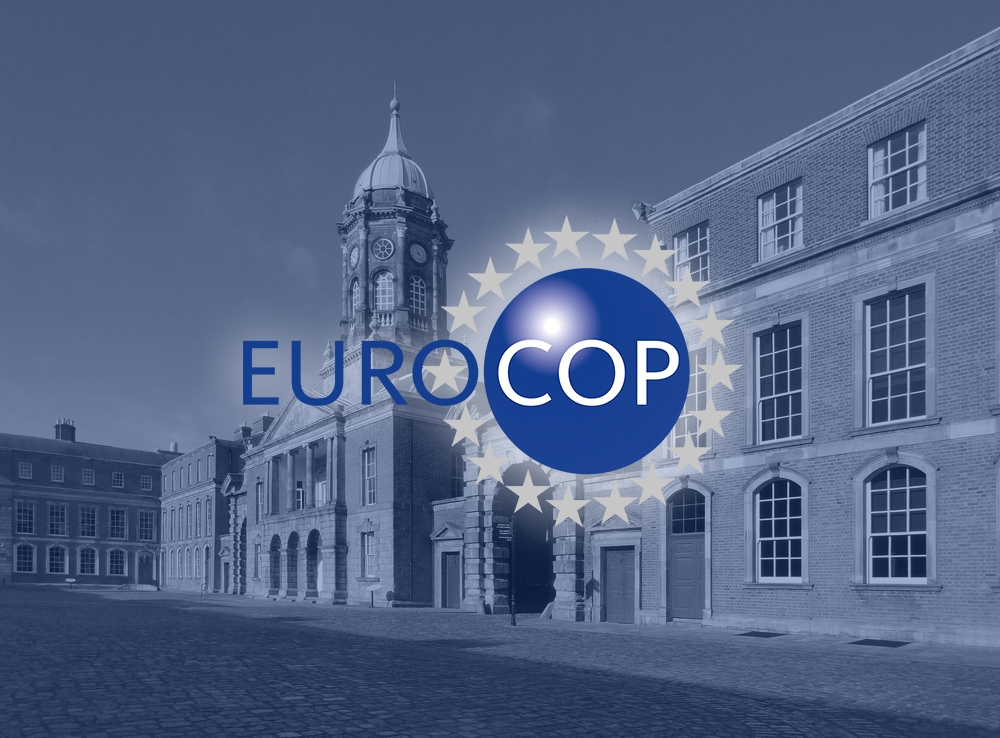 Program 4th Ordinary Congress of the European Confederation of Police
16-18 November | Dublin, Ireland
AGSI looks forward to welcoming 100 delegates from EuroCOP to Dublin for their 4th biennial Congress next week. Last year AGSI won the bid to host this international conference in Dublin and will attend as both a delegate and scruitineer.
Attending will be President Tim Galvin, Vice-President Antoinette Cunningham and General Secretary John Redmond.
Download Congress agenda here: EuroCOP 3-Day Agenda
MEDIA STATEMENT
100 EUROPEAN POLICE OFFICERS DUE TO ARRIVE IN DUBLIN FOR INTERNATIONAL EUROCOP CONGRESS 
EUROCOP CONGRESS TAKES PLACE IN DUBLIN CASTLE FROM 16 – 18 NOVEMBER
Members representing police organisations in 27 countries throughout Europe will attend the three-day European Confederation of Police (EuroCOP) biennial congress taking place in Dublin Castle from Monday 16 to Wednesday 18 November. EuroCOP represents over half a million officers dealing with issues ranging from cross-border police cooperation to a safer working environment for police officers on the street.
Issues affecting policing organisations from across Europe will be on the agenda. The Greek delegation has asked that the current migrantion crisis sweeping Europe be discussed at Congress. The Greek police in particular has been significantly impacted, with the delegation reporting that, on one day alone seven police officers had to manage 15,000 migrants in Kos.
Representatives from the Spanish and Gibraltar police forces, have shown that collaboration in policing can be effective despite political turmoil and delegates will hear about their recent experiences where they've taken a strong cross border approach.
Last year the Association of Garda Sergeants and Inspectors won the bid to host the conference in Dublin winning out against Amsterdam, Sophia, Prague and Torremolinos. Garda Commissioner, Norin O'Sullivan will address international delegates on Monday morning.
The AGSI and EuroCOP have a close working relationship and in 2013 both organisations succeeded in securing trade union rights for members of An Gadra Siochana, following a campaign spear-headed by AGSI over a two-and-a half year period.
In June 2012 AGSI lodged a complaint through EuroCOP against Ireland's implementation of the European Social Charter.
The complaint alleged that it, and other police associations, did not enjoy full trade union rights in Ireland and that Articles 5, the right to organise, Article 6, the right to bargain collectively and Article 21, the right to information and consultation of the European Social Charter were violated as a result. The European Social Committee found in AGSI's favour.
Anna Nellberg-Dennis, President of EuroCOP said it was significant that EuroCOP chose Dublin as the location for its fourth Congress. "We are delighted to be in Dublin and we feel it is important to remind the Irish government of EU Decision 83/2012 over which they have yet to act. The AGSI with the support of EuroCOP has transformed the rights of members of An Garda Siochana for now and for future generations. They have shown great determination in the representation of their members both in Ireland and at a European level."
John Redmond, AGSI General Secretary will moderate a panel discussion on the first day of Congress on, 'The effect of terrorism on policing.' Speaking ahead of the three-day event, Mr. Redmond said it was a privilege for the AGSI to host such a prestigious event and be at the heart of discussing European policing matters. "Policing has changed and is changing.
"We hope the attendance of our European colleagues will remind our own Government about the need to prioritise policing to protect and defend our own citizens against home-grown and international crime gangs. We also will ask them again to take action on the European Committee of Social Rights' decision to grant AGSI trade union rights. We are now facing into direct negotiations, which is our request, as part of the Lansdowne Road Agreement and this issue is to the forefront of our minds.
"AGSI continues to work hard to represent Sergeants and Inspectors and over the coming three days of Congress we will get an opportunity to compare working conditions across Europe with those of members of An Garda Siochana. Working together to fight terrorism is also high on the agenda."