AGSI is asking members to support John Duggan's campaign to get necessary medical treatment for a rare and life-threatening blood disorder. John is a nephew of Ollie Duggan, Secretary of the Laois/Offaly AGSI Branch, stationed in Banagher Garda Station and also a nephew of Tom Duggan (Retired) of Cahir Garda Station. Read John's story below.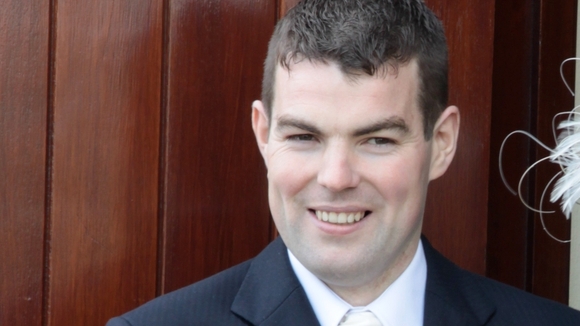 John's Story
John a 33 year old loving husband, brother, son and friend to many was diagnosed with the ultra-rare and life threatening blood disorder Paroxysmal Nocturnal Haemoglobinuria (PNH) in 2008/9. This condition causes the destruction of the blood cells leading to anaemia, fatigue, muscle pains and a high risk of kidney failure and blood clots (risk of heart attack, stroke, and other severe medical problems), with a third of patients dying within five years.
In 2012 John was prescribed the drug Soliris (eculizumab) by his medical team a medication which controls the breakdown of red blood cells and would allow John live a relatively normal life, free from the need for regular blood transfusions, taking daily medication and the persistent risk of having a blood clot which could strike at any time. This drug is essential to improve John's life expectancy and quality of life, with his medical team suggesting that his quality of life could be improved five times over if he were to receive the drug.
Despite constant pressure from the organisation that represents Irish Haematology Consultants, and despite the fact that from a medical point of view the leading experts on the condition in Ireland and the UK are in 100% agreement that John needs to receive the drug as soon as possible, John has never actually received Soliris.
The HSE has refused to fund the drug for John and are denying him the necessary prescribed treatment that he needs due to the high cost of the drug, even though 10 people with the same condition in Ireland are currently receiving Soliris. The HSE are effectively putting a price on John's life.
There is no other option open to John. This is the only known drug to effectively treat and manage the symptoms of PNH and prolong life expectancy and John needs it now. John has been waiting over three years for this drug and time is not on his side.
Please can we ask for your support in this matter by signing John's online petition and lobbying your local TD & government representatives to make it clear to the decision makers in the HSE that they need to grant John access to the treatment that he needs now.
Thank you for your support. Please sign the petition here.