AGSI MEDIA STATMENT
22ndAugust 2019
For Immediate Release
AGSI Respond to New Operational Policing Model
AGSI express concern at new operational policing model launched by Garda Commissioner
Downgrading of management structures
Another policing model
Frontline members are frustrated at impact on frontline
Consultation rushed and late
Will it improve policing delivery to public?
From districts to divisions, the new Operational Policing Model announced today (22 August 2019) by Garda Commissioner, Drew Harris raises many questions for Sergeants and Inspectors.
The Association of Garda Sergeants and Inspectors (AGSI) say while they will support the implementation of the new operational policing model, there are very many unanswered questions particularly around funding, manpower, and the impact on rural policing.
"While the Commissioner is quoted as saying that the model is designed to enhance community policing the AGSI is concerned at the removal of a management structure that has direct responsibility for the governance and accountability of frontline policing.
"Large rural towns across Ireland will no longer have a Garda Superintendent present locally but instead may be based in an adjoining county.
"Previous reports on the functioning of An Garda Síochána have been heavily critical of Garda management for being too far removed from operational policing. But today we see a further downgrading of management, which will pose challenges for Sergeants and Inspectors who rely on managers to supervise and guide us in our role.
"Frontline members are extremely frustrated at the introduction of another new model on top of a raft of other models and the impact on organisational change. Members are not seeing the change that is supposed to be occurring on the frontline.
"Consultation was at best rushed and came late in the day. AGSI now have to brief our members on the model's potential impact but we have many questions unanswered such as the government's commitment to fund this plan. Only last month we were facing announcements that overtime would be cut and financing the US Presidential visit had to come from the existing Garda budget.
"It reads well, but operationally will it improve policing delivery to the public? The AGSI remain unconvinced at this stage."
ENDS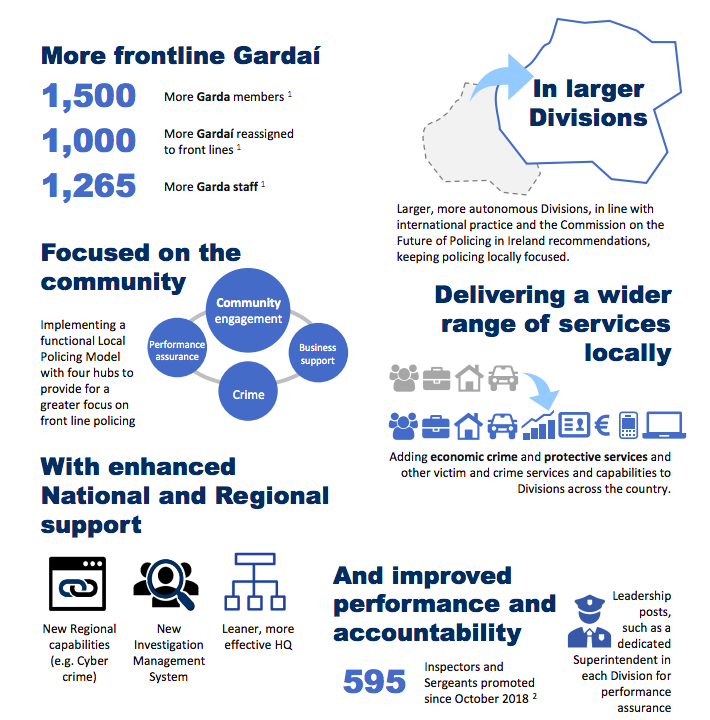 FURTHER READING
An Garda Síochána Media Statement