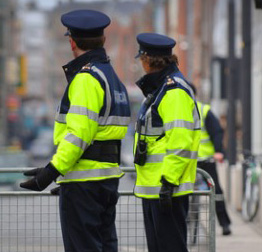 AGSI Media Statement: Sergeants and Inspectors Refuse To Work Extra 30 Hours From January 1st
Sergeants and Inspectors Refuse To Work Extra 30 Hours From January 1
AGSI Also Express Disappointment At Proposed Incremental Pay Freeze
The Association of Garda Sergeants and Inspectors has expressed deep disappointment at the Government's proposal to an incremental pay freeze as part of the Financial Measures in the Public Interest (FEMPI) Bill 2015.
The AGSI met with the Department of Public Expenditure and Reform (DPER) on Friday to discuss its rejection of the Lansdowne Road Agreement. It comes after a meeting with the Minister for Justice & Equality Frances Fitzgerald two weeks ago.
Deputy General Secretary, John Jacob said this morning, "The AGSI National Executive is very disappointed that despite implementing all of the terms of the Haddington Road Agreement our members now face an incremental pay freeze from July 2016.
"The Haddington Road Agreement placed certain obligations on our members including working an additional 30 hours unpaid overtime which we complied with willingly, among other terms.  However, despite Government's commitment to a review – a specific term under the Haddington Road Agreement, which was due to be concluded by June 2014 – we are a long way from it being finalised."
Mr. Jacob continued, "AGSI was asked to commit our members to a new deal despite the Government failing to honour the previous agreement. We have no confidence that any current deal would be honoured, not to mention the cost to our members.
"We had hoped that following discussions with the Minister for Justice Frances Fitzgerald two weeks ago and DPER last week, we would have our concerns taken on board, however they have offered us no solution to this impasse.
"We are now advising our members, who rejected the Lansdowne Road Agreement, that we will not be completing the 30 Haddington Road hours beyond the end of 2015.
"The Government is failing to recognise AGSI members' full commitment to the Haddington Road Agreement. We suffered pay cuts, worked 30 hours for free and engaged fully in that Agreement to help the Government turn the economy around during the worst financial crisis this country has witnessed. Despite this we are threatened with an incremental pay freeze at a time when we should be working together to improve morale within the force – morale which is extremely low and which has been recognised as such by our Commissioner."
MEDIA COVERAGE