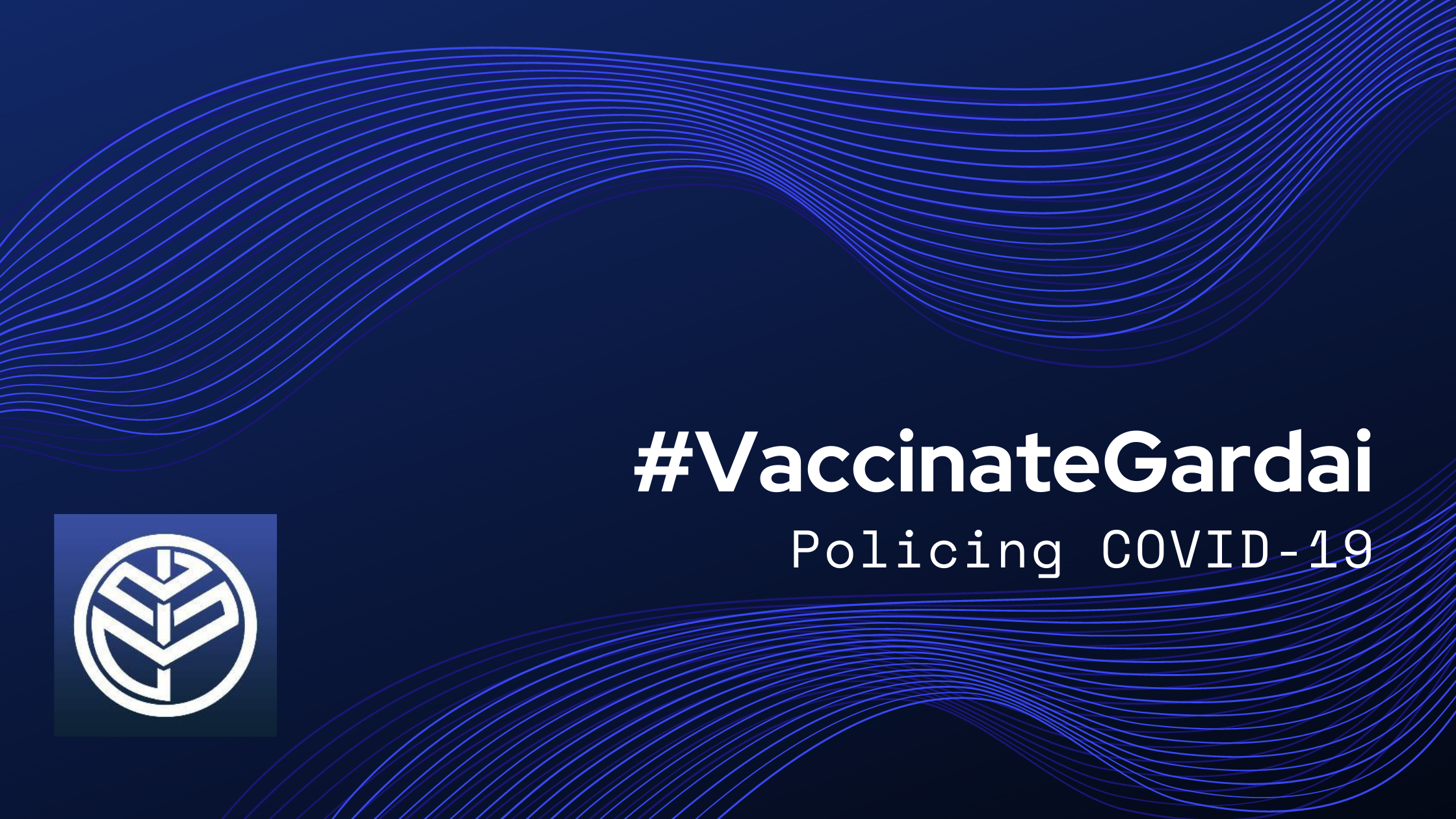 The Association of Garda Sergeants and Inspectors has launched a campaign to highlight the high-risk environment members are operating in during COVID-19.
#VaccinateGardai shares personal stories of AGSI members daily on our Twitter account. @AGSI_Ireland Please retweet our #VaccinateGardai Tweets.
'We had a member who went into an A & E to a highly aggressive male who spat assaulted the Garda knocked him to the ground….'@antoabs on why Gardai need to be prioritised for vaccination#TonightVMTV pic.twitter.com/MxG44v1S1i

— TonightVMTV (@TonightVMTV) April 7, 2021
AGSI has called on Minister for Health Stephen Donnelly to fully acknowledge the full role that An Garda Síochána must play in mandatory hotel quarantining. The AGSI has called on Minister Donnelly to immediately arrange vaccinations for those members involved in that duty and across the organisation generally.
LISTEN TO INTERVIEW ON MORNING IRELAND ON RTE RADIO 1
AGSI has been informed that private security and defence force members involved in hotel quarantining have, or are in the process, of being vaccinated.
General Secretary, Antoinette Cunningham says, "This leaves our members exposed in a high-risk environment where there is a serious risk to their health and safety and that is unfair and not good enough.
"Yesterday's events at the Crowne Plaza Hotel have proven that when an issue arises with mandatory hotel quarantining An Garda Síochána must be involved as it falls on us to enforce non-compliance with the health regulations.
"We have consistently stated that the policing of COVID-19 is becoming more challenging and more dangerous for our members given the high-risk job they do, and in the absence of any vaccination plan for our members."
LISTEN TO INTERVIEW ON PAT KENNY SHOW ON NEWSTALK
AGSI Member Stories
This incident reported in the @irishexaminer in Jan 2021 shows the type of dangers & risk to members health & safety every day while policing #COVID19 & the urgent need to #VaccinateGardai …Government must clarify for @AGSI_Ireland members when they can expect to be vaccinated pic.twitter.com/qfvMzxvq5h

— AGSI (@AGSI_Ireland) March 27, 2021
At the coalface policing #COVID19.#vaccinategardai. pic.twitter.com/93jk4jnfFD

— AGSI (@AGSI_Ireland) April 8, 2021
A busy morning meeting with @ronan_glynn on behalf of @AGSI_Ireland. What is clear now is that it is solely a Government decision to move to Age-Based Vaccination. We will continue to highlight the risk to the Health & Safety of Gardaí as regards Exposure & Transmission of #COVID https://t.co/5yFXwXy4dT

— antoinette (@antoabs) April 7, 2021
A shocking example of the effects that contracting COVID-19 had on a previously healthy colleague. #vaccinategardai pic.twitter.com/euyJYbSceh

— AGSI (@AGSI_Ireland) April 6, 2021
Policing #COVID19 with face masks alone is just not good enough. #vaccinategardai pic.twitter.com/jglacfZrdG

— AGSI (@AGSI_Ireland) April 4, 2021
Can you imagine working in an environment where your uniform was so badly contaminated with blood & other bodily fluids that it had to be sent for destruction…the risk to the Health & Safety of my @AGSI_Ireland & Garda colleagues is a daily occurrence…#Vaccinategardai https://t.co/XwoxTFp4FQ

— antoinette (@antoabs) April 3, 2021
"Finance staff in Offaly, payroll workers in Galway, the pensions department in Cork, administration staff in Limerick, people on career breaks, staff who had retired – the list went on." – @catherine_fegan -All this & nothing for @AGSI_Ireland & Garda colleagues #VaccinateGardai https://t.co/NJBVetUXeF

— antoinette (@antoabs) April 3, 2021
It's not good enough that Gardaí remain unvaccinated. #vaccinategardai pic.twitter.com/vN5DSn4ZFM

— AGSI (@AGSI_Ireland) April 2, 2021
The #COVID19 risk is a real one for our members. We must #vaccinategardai. pic.twitter.com/y0zTUNJdzw

— AGSI (@AGSI_Ireland) April 1, 2021
A courtroom confrontation in normal policing times is difficult enough but while policing the #covid19 pandemic it's a real example of where social distancing is not possible and the risks are high. #vaccinategardai pic.twitter.com/Iguu10k8jg

— AGSI (@AGSI_Ireland) April 9, 2021