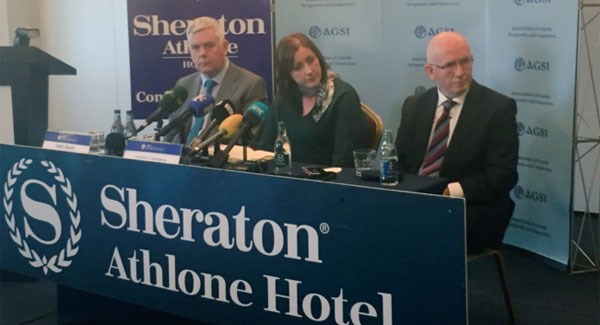 AGSI Announces Days of Industrial Action
AGSI's Days of Action
Sergeants and Inspectors launch campaign of industrial action after members decide to take an escalation approach
The Association of Garda Sergeants and Inspectors have announced a sustained campaign of industrial action in what it has described as "an escalation approach".
151 members from the Association's 31 Branches attended a Special Delegate Conference in Athlone today to discuss the next steps in their campaign for pay restoration. The AGSI tabled a 16.5% pay restoration claim with the Minister for Justice & Equality two weeks ago.
Pay restoration and pay negotiation
The AGSI have outlined three key objectives as part of their industrial relations campaign:
Pay restoration of 16.5%;
Access to direct pay negotiations (Workplace Relations Commission & Labour Court) for future pay deals; and
Recognition and implementation of the EU Social Committee's decision of 2013.
Speaking from the Sheraton Hotel this afternoon, President Antoinette Cunningham said members decided overwhelmingly to proceed with industrial action, specifically a number of days of planned action.
"We did not take this decision lightly, however we feel we have no choice but to show Government how serious we are about restoring pay for our members. We also hope that senior Garda management will respect our decision to take this action.

"We illustrated the long and winding road of pay talks in a detailed series of infographics on screen at our conference and these facts tell their own story.
Reacting to comments made by Minister for Social Protection Leo Varadkar suggesting the public will not support Gardaí if they strike, Antoinette Cunningham, said she disagreed.
"Our members have been inundated with messages of support from people in our communities who have sympathy for the position we find ourselves in. Our 2,000 members speak  to members of the public daily  and we are always taking the temperature of public opinion.

"We care about what the public think because we work to serve them. We have been subjected to a campaign of media criticism by politicians whose time would be better served trying to solve these matters rather than splitting the Gardai and the public they serve."
Ms. Cunningham also detailed members' feelings following correspondence from Minister Fitzgerald suggesting that the AGSI will have direct access to the Workplace Relations Commission and the Labour Court, a promise she says, "has been made many times over the past four years."
"We have no rights but a huge amount of obligations as Sergeants and Inspectors. But the time for action is now. We  want to see timelines; we want to see implementation processes and we want to see a timeline for our 16.5% pay restoration request. None of this has been laid out."
AGSI's days of action
Friday 21 October (7am-7am)
AGSI members will not log onto the PULSE system or engage in any PULSE-related activities.
Friday 28 October (7am-7am)
AGSI members will not use PULSE and will refuse to undertake any administrative duties such as detailing members for duty, processing files or responding to correspondence from management in relation to returns or other matters.
4, 11, 18 & 25 November (7am-7am)
Individual members will withdraw labour on these dates to coincide with the GRA industrial relations action for maximum impact.
The legal standing of industrial action
Antoinette Cunningham says that the AGSI have received legal advice on their campaign of industrial action.