Deputy General Secretary John Jacob and Alan Dowley visited Garda College on Wednesday 30th July to speak to the 185 recently promoted Sergeants to encourage them to join AGSI. This was the first time AGSI had an opportunity to speak to such a large group at one time.
While their time was very limited they emphasised the valuable role of AGSI in representing Sergeants and Inspectors, in protecting their rights and negotiating for better pay and conditions.
We appeal to Branch Secretaries to ensure that all newly promoted Sergeants arriving in their Districts are signed up to AGSI as soon as possible.
We will add them to our database and include them in all further communications once joined.
New members should contact Bernadette Ryan at agsi@agsi.ie for more information.
Photos by Alan Dowley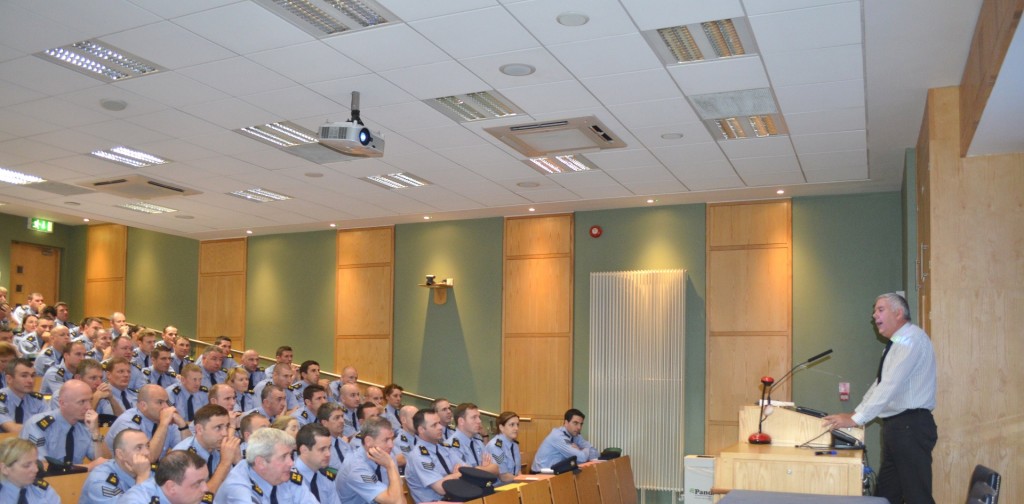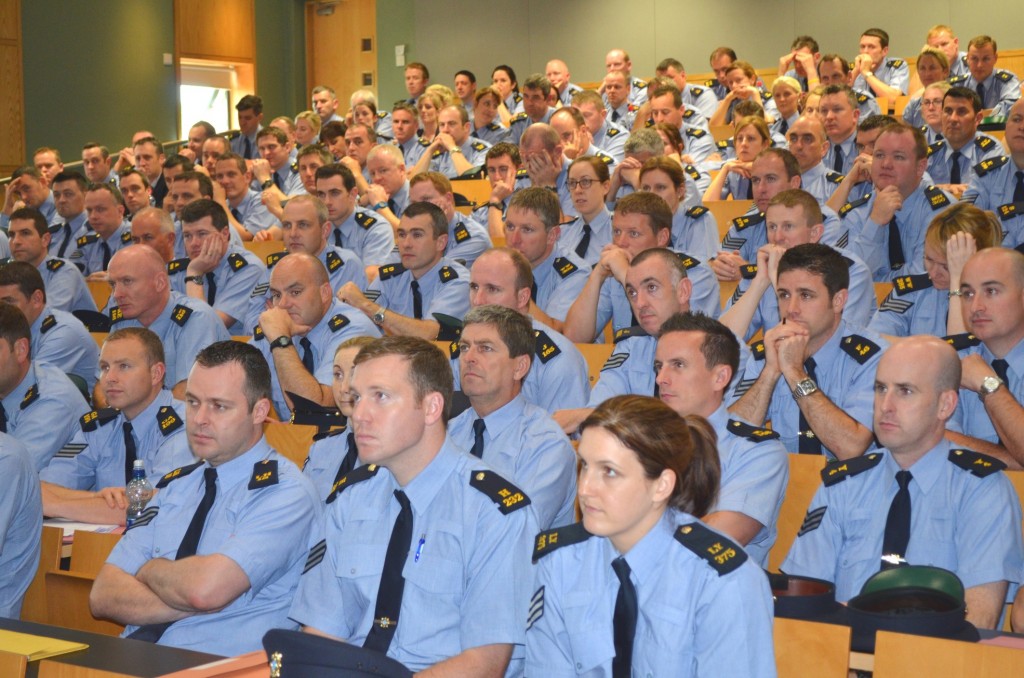 About AGSI
Watch this short video to learn more about AGSI.
Benefits of AGSI Membership
There are many tangible benefits of being a member of AGSI and we have seen an increase in our membership in the past year as members realise the value of having AGSI represent you.
Subscription Includes
• Personal Accident Insurance: Lump Sum currently €40,000 and weekly benefit €160
• Casting Benefit: €8,000 for retirement through illness or bodily injury
• Spouse Life Insurance: Free Cover of €2,500. If no spouse, cover reverts to member
• Legal Aid Assistance: For members under the terms of the AGSI Scheme
• Optional Group Insurance Schemes: Available at competitive rates
• High Quality Desk & Pocket Diaries: Issued to members every year
• Free Consultancy: On PAYE
• Email Communications: Monthly e-newsletter & regular news alerts
• Website: Members' section on website with news and resources
• On Retirement: Members are presented with a specially commissioned bronze Garda bust inscribed with the AGSI logo
Legal Aid
• Legal advice and support with discipline and GSOC investigations
• Trained advocates in each Division for consultation and support
• Representative on the Discipline Appeal Board
• Panel of experienced solicitors to advise on relevant issues
Advocacy & Lobbying
The Secretariat and National Executive work intensely to protect members' pay and conditions. This work has proved invaluable during negotiations under the Haddington Road Agreement and on other measures, which are impacted by the Government's current austerity programme. AGSI successfully negotiated direct talks with the Labour Relations Commission in 2013 – the first time in the history of the Association. We also won our case brought to the EU Commission on our right to have Trade Union Status. Again further evidence of our success and commitment in representing our members.
Consultation & Negotiation
• AGSI is a representative association established under the Garda Síochána Act 1977. Under Partnership AGSI has the right to have its voice heard at local and national level.
• AGSI has access to the Garda Conciliation and Arbitration Scheme which is established to deal with claims from members and groups of members.
• National Executive meets with Commissioners and participates in the Consultative Council with the Commissioner.
• Working parties on welfare and employee assistance, uniforms, personal protective equipment, communications, transport and general conditions.
• Regular meetings are held with the A/C HRM to deal with individual and group issues.
Optional Insurance Schemes
• Spouse Life Assurance – option to increase cover
• Garda Life Assurance – the GRA scheme, open only to member of representative associations
• Sickness Insurance Scheme
• AGSI Group Specified (Critical) Illness Scheme
• House Insurance Scheme
• Guaranteed Savings and Investment Scheme
Other Services
• Make local representation on transfers, appointments, rosters and accommodation
• Meeting with district and divisional officers
• Participation in welfare, health and safety, accommodation, catering and other committees
• AGSI negotiates claims on behalf of members and groups of members at the Garda Conciliation Council
• Individual matters not resolved at local level can also be raised at national level
• AGSI is represented on the Boards of the Benevolent Trust Fund and the Garda Medical Aid