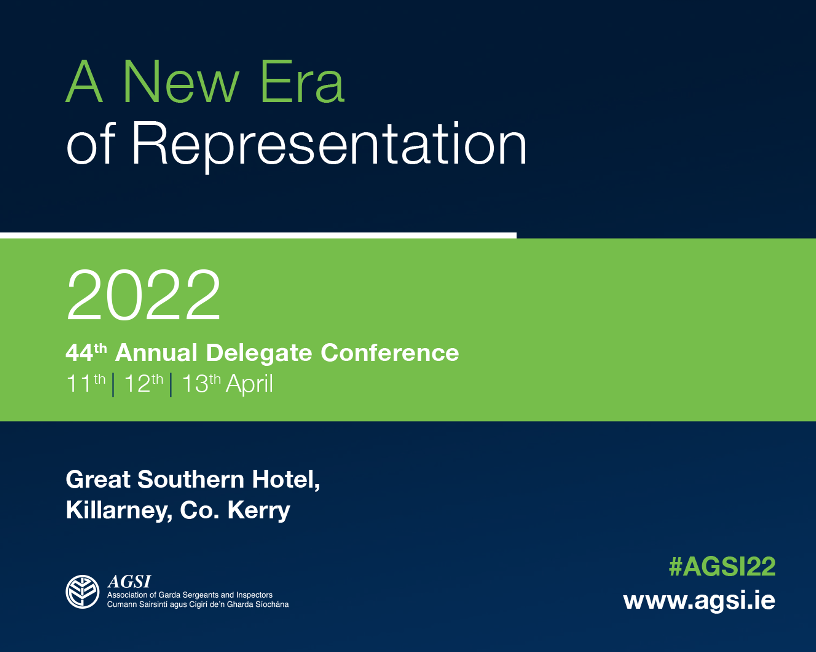 44th Annual Delegate Conference of AGSI Opens in Killarney
Association of Garda Sergeants and Inspectors Invoke Review Clause of Building Momentum Public Service Pay Deal with Rosters Set to be the Hot Ticket Item at 44th Annual Delegate Conference
The President of the Association of Garda Sergeants and Inspectors will open the organisation's 44th Annual Delegate Conference in Killarney today. Paul Curran will welcome Minister for Justice, Helen McEntee T.D. who will address 140 delegates from AGSI's 31 Branches.
19 motions will be debated over the three-day conference with the results of these motions setting the agenda for the year in terms of AGSI's position on pay and conditions, training and transformation, and other priorities for its 2,500-strong membership.
Speaking from Killarney, Sgt Curran welcomed the return of normal conference business and said members were eager to get clarity on the future of their working roster which is currently in flux.
"AGSI members have been working an emergency COVID-19 roster for two years which saw them change to a 12-hour shift overnight. With the relaxation of emergency health regulations coupled with uncertainty over the future of rosters, our General Secretary will deliver a detailed presentation to the conference on this matter.
AGSI General Secretary, Antoinette Cunningham who has been part of the negotiating team at Westmanstown where Garda rosters have been taking place, said the pressure is mounting on the Association from the membership.
"AGSI removed itself from negotiations at Westmanstown on March 16th as what was being proposed was not in the best interest of Sergeants and Inspectors, in our view. We understand there will be an emergency motion before the conference in relation to this matter and we look forward to receiving the views of our delegates."
As regards pay, Ms. Cunningham confirmed that AGSI has invoked the review clause of the Building Momentum public service pay agreement, stating, "the 1% pay increase due in October does not meet current inflation rates nor does it meet current economic and cost of living challenges. I will further update members on this matter tomorrow."
The conference opens at 5.00pm this afternoon (Monday, 11 April). Tomorrow (Tuesday) Deputy Garda Commissioner Shawna Coxon will attend on behalf of Commissioner Drew Harris. The conference ends at 12.30pm on Wednesday (13 April).