Excellence Award Winner 2013
Inspector Gerry Connolly, Sligo Garda Station
 Nominated by the Sligo/Leitrim Division
"An excellent ambassador for An Garda Síochána and duly deserving of the 2013 Excellence Award"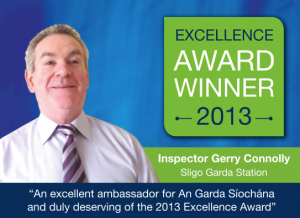 A native of the barony of Erris in Co. Mayo, Gerry Connolly joined An Garda Síochána in 1974. His service began in Carrick-on-Shannon but he has served in various stations in the Sligo/Leitrim Division over the years.
He was promoted to the rank of Sergeant in 1990 and Inspector in 1999. Gerry has served his local community outside of work particularly in the GAA movement. Most notably he trained the Sligo Ladies Football Team prior to them advancing to an All-Ireland win.
 "Lifetime commitment and dedication"
With almost 40 years service under his belt, Inspector Connolly has made a deep impact on his colleagues with whom he has worked with over the years.  His nature as an "approachable" Inspector whether on or off duty has resulted in many colleagues confiding in him.
His practical, common sense, no nonsense and decisive personality has been described as "legendary" and he is admired throughout the Division.
"A member who espouses the virtues of the uniform"
Inspector Connolly's extensive local knowledge, garnered and perfected over the years, benefited countless intricate and difficult investigations.   He is the primary investigator in one of the longest institutional child abuse investigations in the country, namely the St. John's School case.
A number of persons have been successfully prosecuted as a result of his lengthy and detailed investigations.
"One of the country's most formidable and proficient prosecuting Court Inspectors."
Inspector Connolly is esteemed by the general membership of AGSI in Sligo/Leitrim and is highly respected by the legal profession and judiciary because of his professional and well-informed court performances. He is a popular prosecutor in District Courts throughout the Division.
"He epitomises the best of the traditional public service ethos"
"Self-serving" is not a term you would associate with Inspector Connolly. He has commanded his role at Inspector rank with great dignity and leadership.  He is an excellent ambassador for An Garda Síochána and accordingly has served on a myriad of policing external bodies and is a long serving member of the National Emergency Committee.  Inspector Connolly is also the regional representative on various cross-border Traffic Committees in conjunction with the PSNI.
Inspector Connolly is a highly deserving winner of the 2013 AGSI Excellence Award.